V-Steam, Bajo, Yoni Steam
Peri-Steam Hydrotherapy, most often referred to as Yoni Steam or V-Steam
Vaginal steaming is the ancient practice of administering herbal preparations to benefit women with a wide range of reproductive conditions.
Peri-Steam Hydrotherapy is a new term, coined by Kelly Garza of Steamy Chicks. There's been a lot of hype around this current trend but really this form of healing is nothing new to women. The practice of perineum steaming has been used by midwives and traditional healers around the world for centuries. 
Motherlove Massage proudly offers vaginal steaming using a traditional Korean steamer. After an thorough intake about your specific conditions you'll be draped  for comfort and may steam in privacy, with a partner or gathered with your closest ladies. A small cup of water and herbs heat under a disposable seat with a heat adjustable control. Each steam is hand prepared with an herbal remedy specific to your needs. Enjoy a meditation or music and herbal teas while benefiting from the healing properties listed below. 
What you need to know before you steam:    You may not steam while menstruating, if you're pregnant, or have an active infection. There are other conditions which may require a shorter steam session or less heat.
One on one consultations are available for guidance to the perfect period and perfect menstrual health.
If you are also having an Arvigo Maya Abdominal Therapy Session, please fill out intake form and bring it to your appointment.
BENEFITS OF YONI STEAM
Healing after birth or miscarriage

Relief from menstrual cramps

Increased circulation for fertility

Vaginitis, BV

Episiotomy scar healing

Improve perineal tone for prolapse

Relief for hemorhoids

Relief for vaginal dryness and menopause symptoms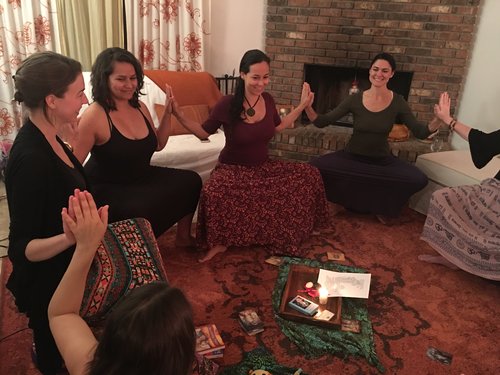 HERSTORY OF THE VAGINAL STEAM BATH, BAJOS, YONI STEAM, BERTANGAS
The vaginal steam bath is actually eons old and is seen in almost every indigenous culture and many Eastern cultures as a routine ritual for women's health. It is commonly used in almost all of the Caribbean, Mexico, Belize and Guatemala. In each region of the globe local native plants and flowers are used for their soothing, energizing and even antiviral/antibacterial properties. I once had a young Korean college student working with me at the spa. When she saw the Diana Steamer she recognized it at once and said "Wow, my grandmother and aunt have those at their homes in Korea. They're always using that thing." It was so fun to hear her memory of steams being commonplace in her home country.
Steam for Fertility: 
Steam Post Partum: In many regions women put the steam baths to use after giving birth. It is part of the traditional remedy to get back energy, health, and pelvic tone after birth. In Haiti, for instance, women are instructed to do a vaginal steam with herbs every day for 2 weeks after birth to tone and heal the pelvic floor and completely clear the uterine lining. For this reason, we recommend all women also consider a series of vaginal steams after a miscarriage or D&C. 
It is used regularly to soften scars associated with childbirth or pelvic surgery in the perineum.
Steam for Menopause:
Pelvic tone for all women: The healing properties of steam and herbs bring blood flow, circulation, and nourishment to the pelvic floor and perineum. Regular use promotes pelvic rejuvenation in prolapsed organs and toning of the muscles of the perineum.
Pricing:
40 minutes – $45
Save $40 on package of 4 steams ~ $140